Condos For Sale In The Central Ala Moana, Ala Moana HI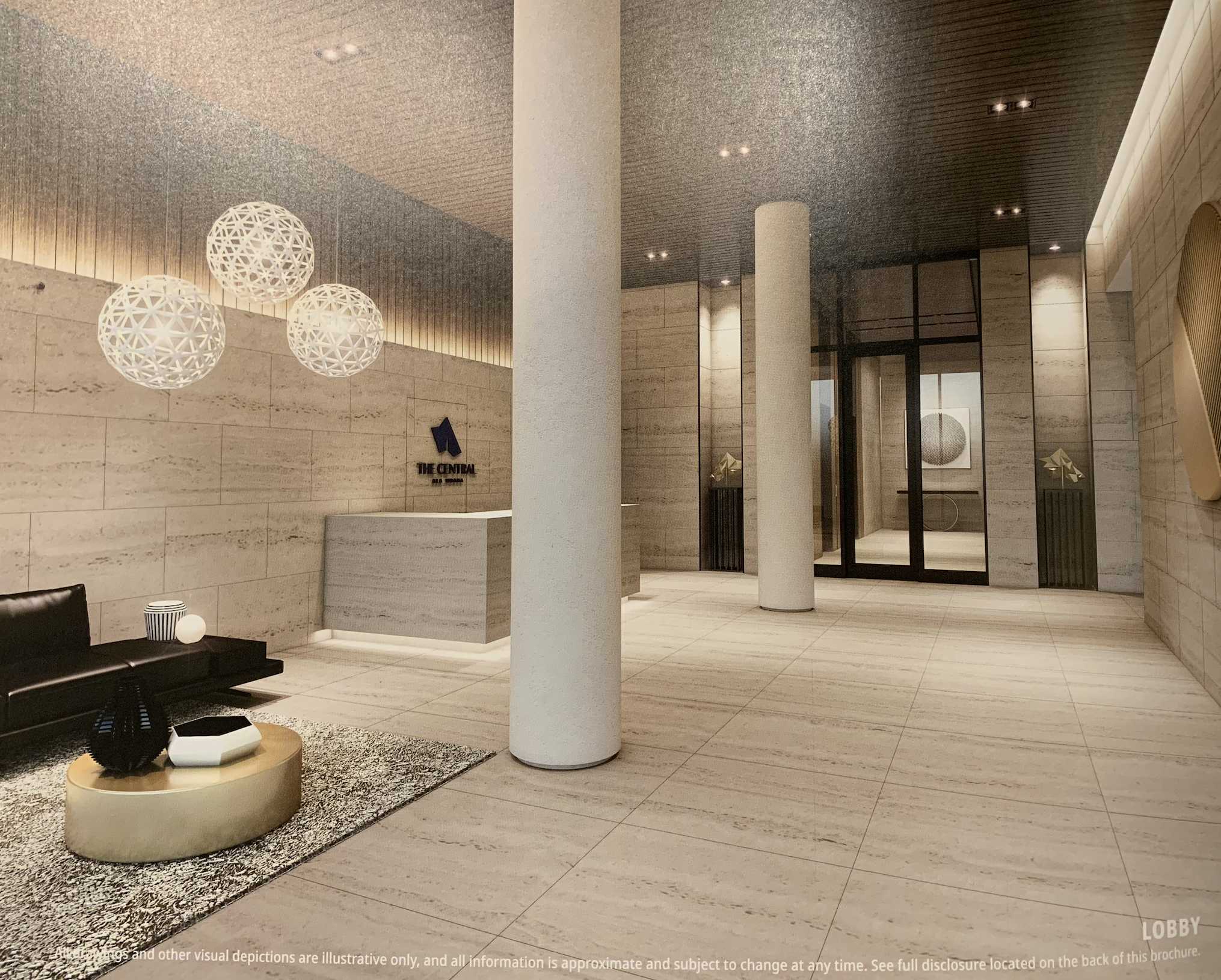 The Central Ala Moana is the second tower from Korean developer, Samkoo Pacific. The first tower, Kapiolani Residence, was an immensely popular project located at 1631 Kapiolani Boulevard that sold out in 2 months. The Central Ala Moana will be somewhat of an upgrade over the developer's first project with a much better location adjacent to the future Ala Moana Transit station. The project will be built on a 1.43 acre lot that was formerly home to Motor Supply Co, and purchased by SamKoo Pacific in 2007 for $26 million.
Jump To: The Central Ala Moana Listings | The Central Ala Moana Info | Contact Us | Create An Account
The Central Ala Moana HI Condos for Sale
August 14, 2022
$1,511.89
Avg. $ / Sq.Ft.
$1,719,500
Med. List Price
THE CENTRAL ALA MOANA - 1391 KAPIOLANI BLVD. - SAMKOO NEW DEVELOPMENT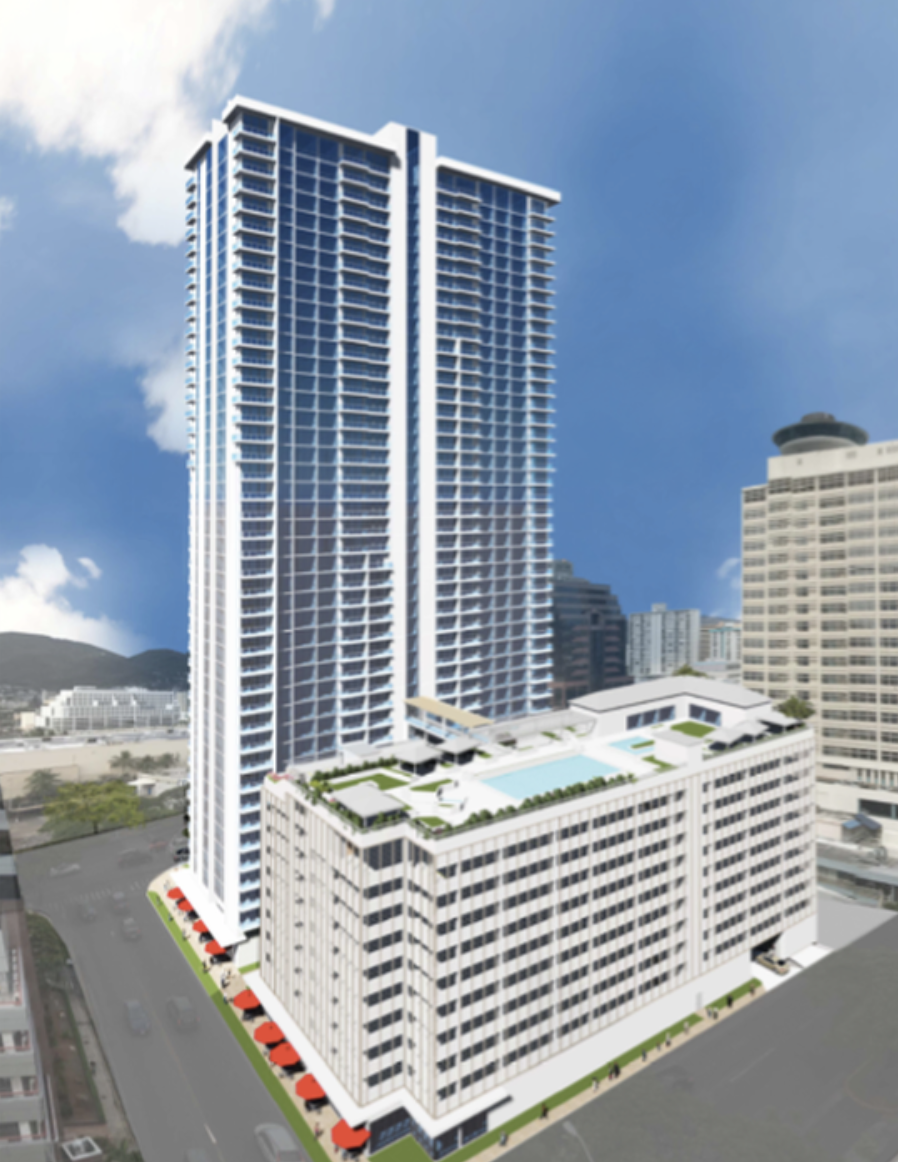 All drawings and other visual depictions are illustrative only, and all information is approximate and 
subject to change at any time. See full disclosure located on bottom of page.
CENTRAL ALA MOANA TOWER
Architecturally, the project will be very similar to Kapiolani Residence, featuring floor to ceiling glass and fairly large floor plans. Rumored upgrades include but are not limited to keyless entry, smart refrigerators, higher ceilings, and many more units with ocean views than it's sister tower. As the building's concept materializes, the market will ultimately dictate the price range, amenities, and other features to be offered by the developer. Here's what we expect so far:
513 units consisting of one- two- and three-bedroom units
310 Affordable (HHFDC Rules)
Studios from 469 - 518 sqft
1 beds from 766 - 773 sqft
2 beds from 1057 - 1,275 sqft
3 beds from 1,316 - 1,622 sqft
Features: AC, Keyless Entry, "Smart" Touchscreen Appliances
Affordable Price Ranges:

- Studios: $286,000 - $399,500
- 1 Bedrooms: $396,000 - $566,000
- 2 Bedrooms: $493,000 - $637,000
- 3 Bedrooms: $700,000 - $708,000
Market Price Ranges:

- 1 Bedrooms: $580,000 - $630,000
- 2 Bedrooms: $777,000 - $998,000
- 3 Bedrooms: $990,000 - $1,398,000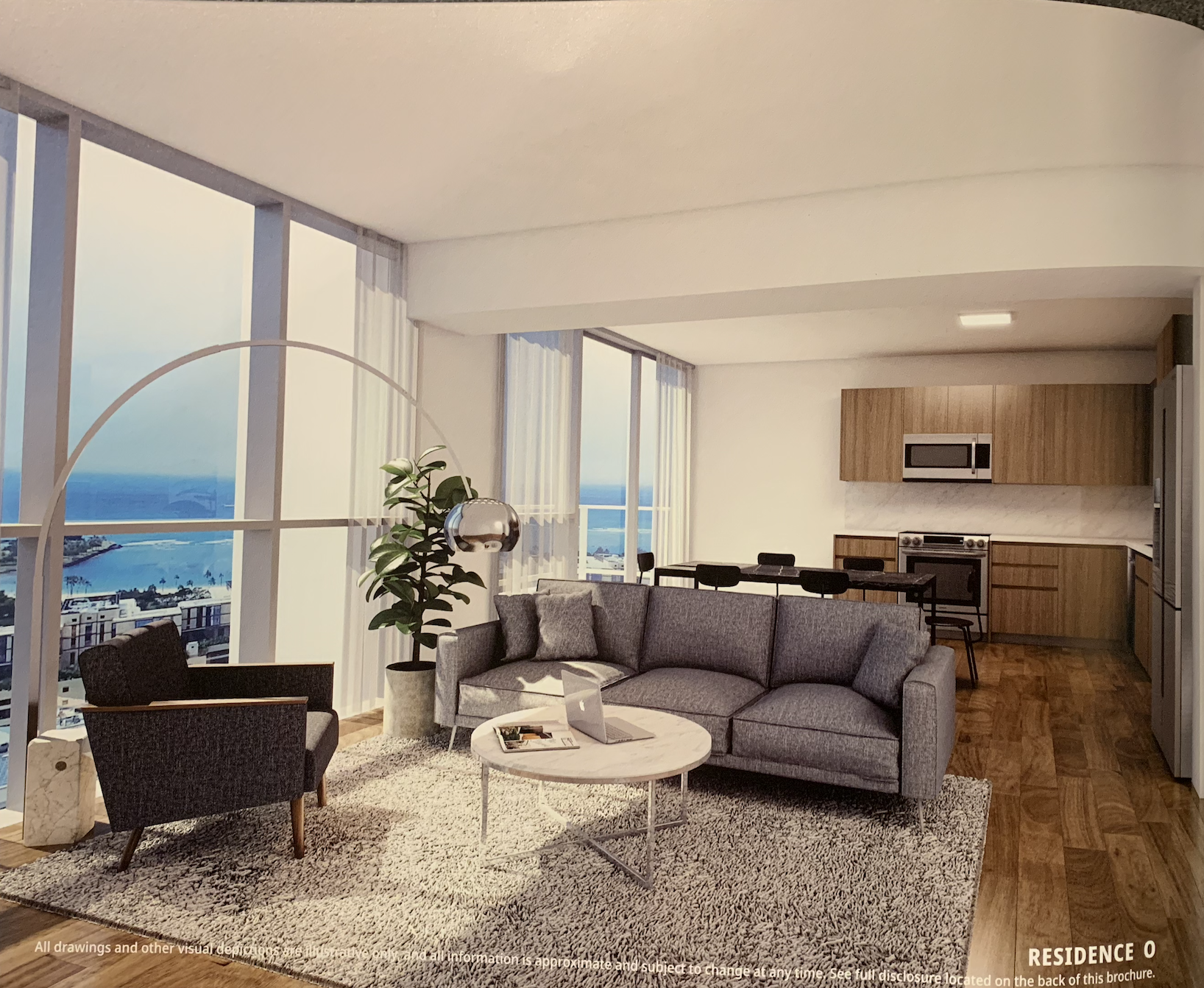 All drawings and other visual depictions are illustrative only, and all information is approximate and 
subject to change at any time. See full disclosure located on bottom of page.


Amenity Deck
Amenities included are as follows:
Fitness Center
Recreation Room
Swimming pool & children's pool
Hot Tub
Cabanas and Grilling Stations
Children's play area
Dog Park
Views
If you consider that The Central Ala Moana will be constructed directly behind Ala Moana Center, it doesn't take much imagination to get an idea of what kind of views to expect. Barring an unforeseen high-rise popping up directly in front of The Central, you should expect exceptional, direct ocean views from units with oceanside orientation.
The Neighborhood
It should be no mystery what neighborhood The Central Ala Moana calls "home." As reflected in it's name, owners will be pleased to enjoy the convenience of the Ala Moana community; thriving with the nearby restaurants, entertainment, and world class shopping at Ala Moana Shopping Center that's literally right across the street. Further retail and dining is merely a stroll away to Ward Village in Kakaako; recently named Best Master Planned Community in the U.S. 2017. Let us not forget the famed Ala Moana beach park offering acres of public, outdoor and ocean amenities.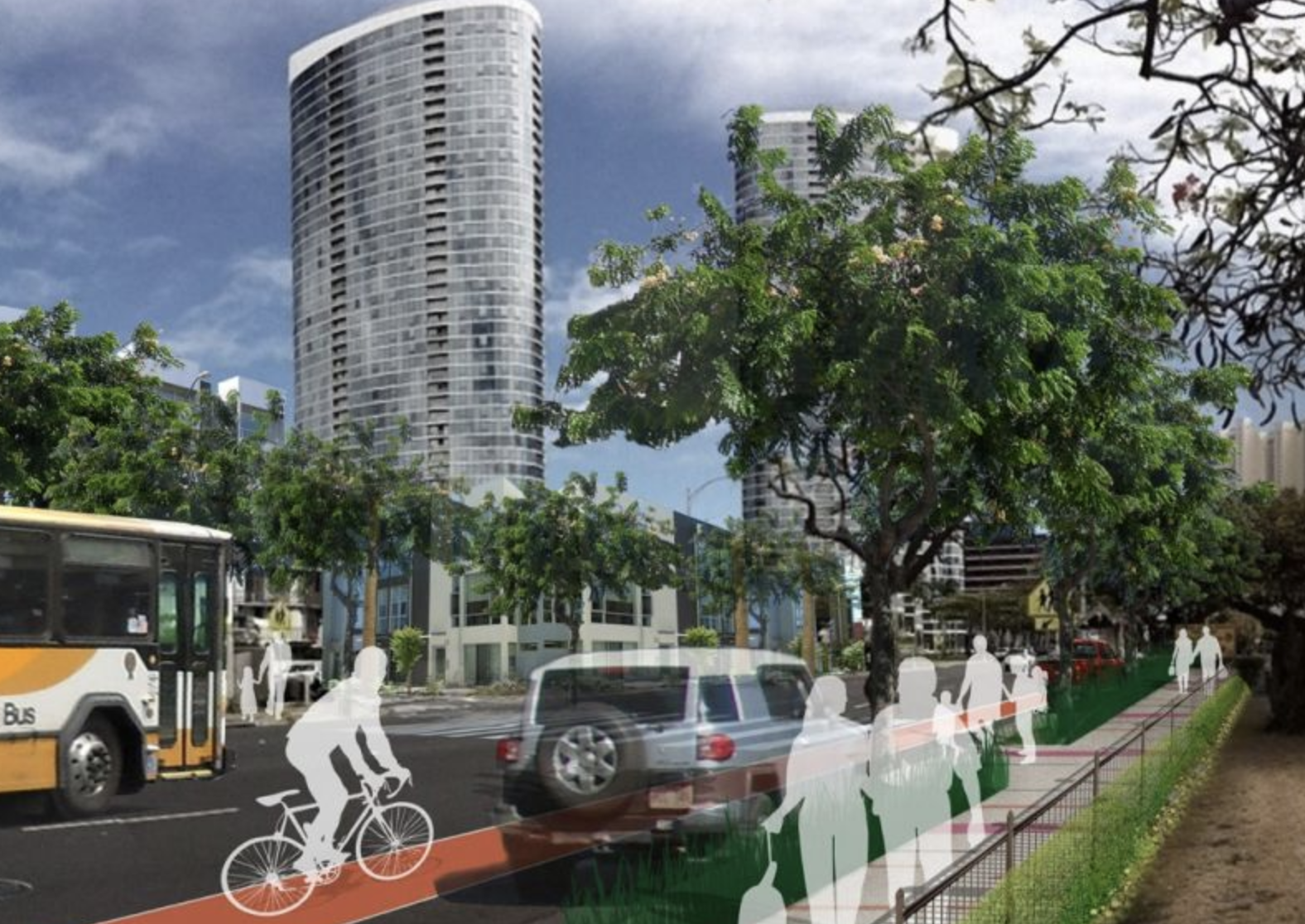 Kapiolani Boulevard serves as one of the neighborhood's anchors, operating as one of the city's main thoroughfares for commuters in and out of Honolulu's business districts. The vision laid out by Honolulu's Transit Oriented Development suggests that we're seeing the Ala Moana neighborhood in its infancy, and that we will eventually see it become Honolulu's most livable urban community as new walking, biking, and transit usage takes shape. Adjacent to the Ala Moana neighborhood is the newly coined Midtown Ala Moana neighborhood which is seeing it's own transformation as it follows the footsteps of Kakaako, it's slight older sister community.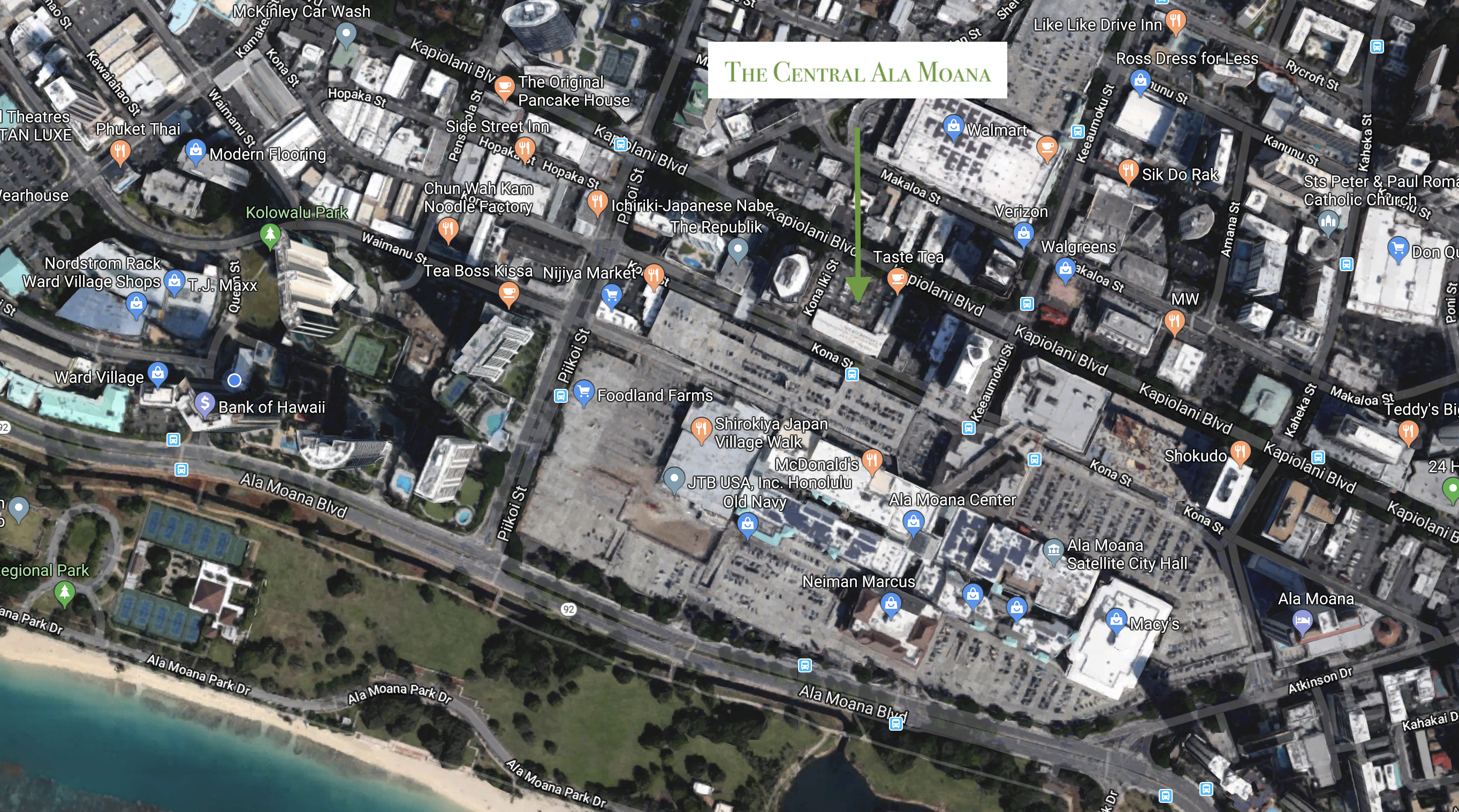 Insights
There is limited inventory available at the The Central Ala Moana after the sales launch earlier this year. Please inquire on the form below or reach out to us at koa@hawaiihomeboys.com | 808.777.0588 to inquire about remaining inventory.
If you missed your shot at acquiring a unit at The Central Ala Moana, then check out Ililani and Sky Ala Moana. Ililani will be a new mixed-use high rise condominium project in Kakaako and plans to launch sales in mid-2019. This building will feature a 1- and 2- bedroom floor plan with lanais in one of urban Honolulu's most desirable neighborhoods.
You may also be interested in Ho'opili Sky Ala Moana Hawaii Ocean Plaza
For More Luxury Check Out: Victoria Place, Ward Village
SALES LAUNCH: Estimated for Late 2018 to Early 2019
APPLICATIONS: Available for pickup or upon request. Deadline Early 2019.
PET RESTRICTIONS: TBD
MAINTENANCE FEES: TBD
NEARBY SHOPPING/RETAIL: Foodlands Farms, Ala Moana Mall, Don Quijote, Palama Market, Whole Foods
DEVELOPER: SamKoo Hawaii LLC