Kaneohe, Hawaii | The Ultimate Real Estate & Neighborhood Guide
Posted by Koa Cassady on Tuesday, May 16, 2023 at 12:29 PM
By Koa Cassady / May 16, 2023
Comment
Kaneohe, located on the Windward side of Oahu, is a haven for those who appreciate the beauty of nature without sacrificing urban conveniences. Known for its lush landscapes, Kaneohe, which translates to "bamboo man" in Hawaiian, presents an idyllic island lifestyle with the backdrop of the Koolau Mountains and the tranquility of Kaneohe Bay.

Kaneohe's reputation is built on its stunning natural features. The city is home to the Kaneohe Bay, the only barrier reef in Hawaii, and the Ho'omaluhia Botanical Garden, a 400-acre garden created by the U.S Army Corps of Engineers to provide flood protection for Kaneohe. These natural attractions, along with the Windward Mall and the Kaneohe Marine Corps Base, contribute to the unique identity of this city.
New to the Hawaii? Get to know the neighborhoods with us!
Where is Kaneohe Hawaii?
Situated on the picturesque windward side of Oahu, Kaneohe is one of two major towns right by the H-3 and Pali highways and near the marine corps base. Kaneohe sits along beautiful Kaneohe Bay in the shadow of the Ko'olau Mountains, offering some of the most stunning scenery in the world. Kaneohe Zip Code: 96744
Kaneohe is situated on the eastern coast of Oahu, offering residents easy access to important locations:
Daniel K. Inouye International Airport: 12 miles, approximately 30 minutes during non-rush hour
Downtown Honolulu: 13 miles, approximately 30 minutes during non-rush hour
Waikiki: 14 miles, approximately 35 minutes during non-rush hour
Kailua Town: 4 miles, approximately 10 minutes during non-rush hour
Marine Corps Base Hawaii: 5 miles, approximately 12 minutes during non-rush hour
What It's Like to Live in Kaneohe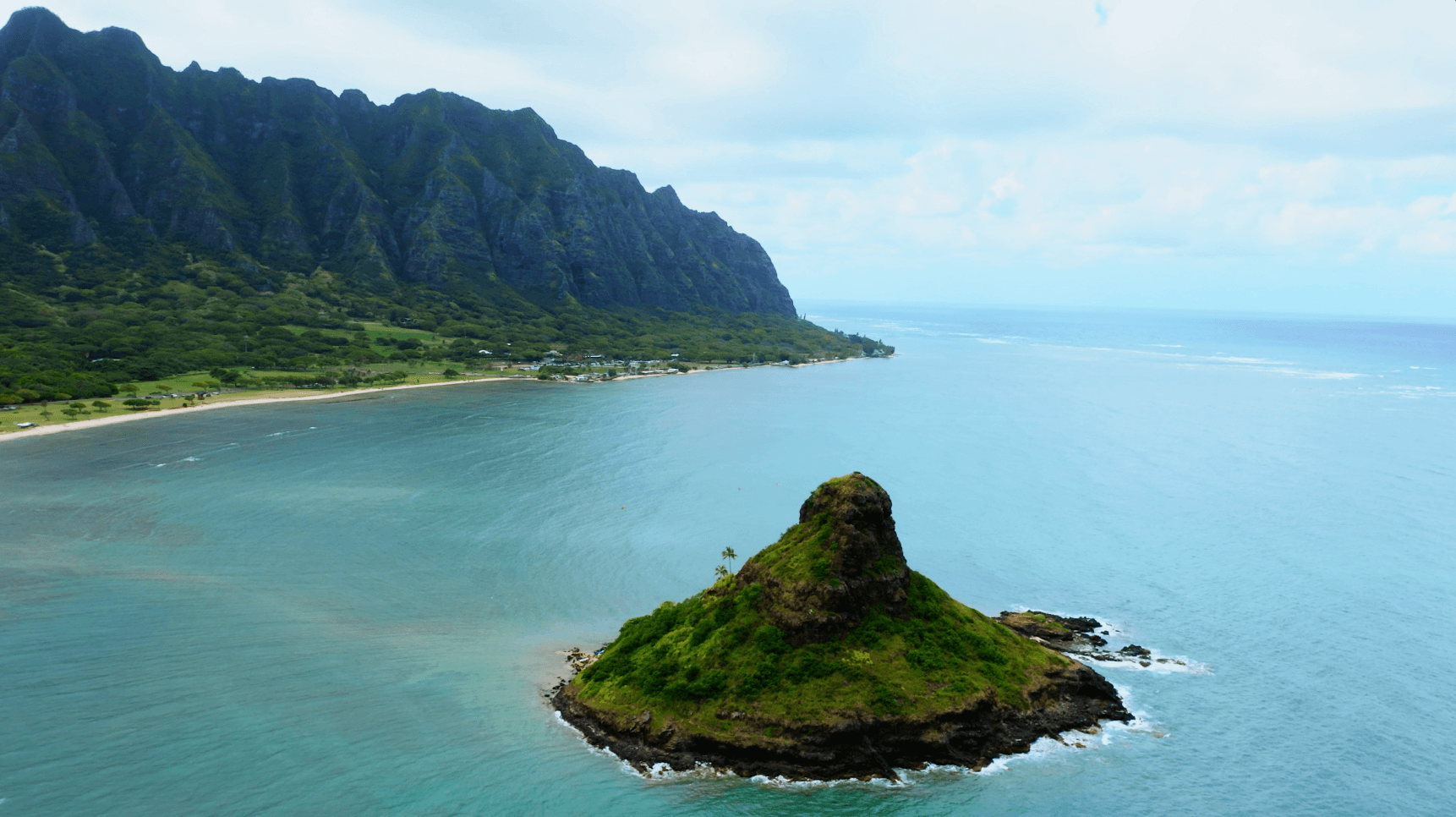 In the past, Hawaiian chiefs and kings made Kaneohe their home and used the land for traditional farming and fishponds. Later, much of the area was historically owned by the Castle family and used for a cattle ranch and sugar plantation. As the agricultural land uses waned and new highways were built, Kaneohe experienced a housing boom in the mid-20th century. It's also not far from some of the most "country" parts of Oahu to the east and north. Living in Kaneohe, you get the experience of both "old" and "new" Hawaii.
Living in Kaneohe is synonymous with embracing a lifestyle that blends community spirit, outdoor adventures, and modern conveniences. The city offers a variety of recreational opportunities, ranging from water sports on Kaneohe Bay to hiking trails in the Koolau Mountains. Local shopping centers and restaurants cater to daily needs and culinary cravings, while the strong sense of community fosters a warm, welcoming atmosphere.
Cheat code: How to pronounce Kaneohe (kah-nay-oh-hay)
Kaneohe compared to its border towns
Kaneohe vs Kailua
While both situated on Oahu's Windward Coast, Kaneohe and Kailua offer distinct living experiences. Kaneohe, with its lush landscapes and tranquil Kaneohe Bay, is a haven for those who appreciate nature's tranquility mixed with suburban conveniences. It's a bit more of a residential and commercial hub compared to Kailua, hosting the Windward Mall and a variety of dining options. On the other hand, Kailua, known for its world-renowned beaches such as Kailua Beach and Lanikai Beach, offers a more laid-back, beach town vibe. Kailua's small-town charm, with its local boutiques, farmers' markets, and outdoor activities, draws those who seek a slower-paced lifestyle close to some of Hawaii's most beautiful coastlines.
Kaneohe vs North Shore Oahu
Living in Kaneohe differs significantly from life on North Shore Oahu. Kaneohe, nestled against the Koolau Mountains and Kaneohe Bay, combines residential neighborhoods with commercial areas, providing a balanced lifestyle with easy access to retail, dining, and natural beauty. Its location offers convenient commuting times to Honolulu, making it an attractive choice for those working in the city. In contrast, North Shore Oahu, known worldwide for its massive winter waves and professional surfing competitions, offers a more rural, laid-back lifestyle. It's a mecca for surfers and beach lovers and is dotted with charming surf towns, food trucks, and local farms, providing a more rustic and relaxed island living experience.
Compared to neighboring Kailua, Kaneohe is a more affordable town with a diversity of real estate options. Most single family homes will have three or more bedrooms and two or more baths, and a carport instead of an enclosed garage. There are a few new construction homes in the area too, if that is your preference.
What is the weather like in Kaneohe?
Kaneohe weather sees cool breezes from trade winds that come in off the coast will blow through your home. The region can also expect up to four inches per month of rainfall in the winter months. When it does rain, there are long waterfalls streaming off of the bright green Ko'olau mountain range, and plants thrive too. Temperatures go up to the 80s during summer, with plenty of sun, and dip down to the high 60s at night in winter.
What is there to do in Kaneohe?
There is plenty to do with family or friends in and around Kaneohe! Whether you like parks, water activities, dining or shopping, you don't have to go far to find activities and relaxation!
Windward Mall | The mall in Kaneohe has many typical chain as well as local stores, a food court, restaurants and community events. It also hosts Regal Movie Theaters in Kaneohe and a farmer's market twice a week and has a rain garden.
Ho'omaluhia Botanical Garden | On 400 green acres in Kaneohe, Hoomaluhia Botanical Garden is the largest of several public botanical gardens across the island. Ho'omaluhia provides epic views of the Koolau Mountains, trails, fishing and campsites. People like to pose on the palm-tree-lined road heading into the park for social media-worthy photos!
The Sandbar | The town of Kaneohe as well as MCBH are right on the turquoise blue Kaneohe Bay, which has the largest saltwater sandbar in the world. People kayak or take larger boats out to enjoy snorkeling, picnics and games. It's like being on the beach in the middle of the bay. The sandbar's Hawaiian name is Ahu O Laka, and from it you can also see small islets including Mokoli'i, Chinaman's Hat, off the coast.
Golfing | Kaneohe has three highly-rated golf courses plus one more within the gates of MCBH: Koolau Golf Club, Bay View Golf Course, Pali Golf Course and Kaneohe Klipper Golf Course. You might even spot former President Obama on the course!
What is the shopping like in Kaneohe?
In addition to the mall, all the essential errands are within reach if you live in Kaneohe, whether you have base access or not. It is not a long trip for groceries, home and pet supplies, etc. And if Kaneohe itself doesn't have what you are looking for, there's a lot more shopping in nearby Kailua, including a Whole Foods and a Target.
Grocery and Drug Stores
Foodland | 45-480 Kaneohe Bay Drive, Kaneohe, HI 96744 | This local grocery store is known for lots of aloha from the staff, some local produce and great poke.
Times | 45-934 Kamehameha Highway, Kaneohe, HI 96744 | Another local chain, Times has great produce (including Asian vegetables) and a tasty lunch counter.
MCBH Commissary | Bldg 6088, Mokapu Road, MCBH, Kaneohe, HI 96863 | If you are a military or veteran family and have access to the commissary, there you will find the best prices by far for staples and basically any groceries that have to be flown in from the mainland, as well as some local items.
Safeway | 46-065 Kamehameha Highway, Kaneohe, HI 96744 | This Safeway is a nationwide grocery store that has organic items but reportedly long lines.
Walgreens | 46-021 Kamehameha Highway, Kaneohe, HI 96744 | Walgreens is a drugstore with mini mart basics.
Longs Drugs | 45-480 Kaneohe Bay Drive, Kaneohe, HI 96744 | Longs are part of the CVS Pharmacy company, and this one also has a Minute Clinic.
Pet Stores
To get a pet or their services or supplies from fish to dogs, the locations below can help you in Kaneohe.
Koolau Pets | 46-056 Kamehameha Highway, Kaneohe, HI 96744
Petco Kaneohe | 46-023 Kamehameha Hwy Unit G, Kaneohe, HI 96744
Kaneohe Farm Supplies | 45-1048 Kamehameha Hwy H, Kaneohe, HI 96744
Hardware Stores
For home projects, hobbies or garden needs, here are two hardware stores in Kaneohe.
City Mill Kaneohe | 46-209 Kahuhipa Street, Kaneohe, HI, 96744
Yamashiro's Building Supply/Ace Hardware | 45-552 Kamehameha Highway, Kaneohe, HI 96744
What are the best restaurants in Kaneohe?
Dean's Drive Inn | 45-270 William Henry Road, Kane?ohe, HI 96744 | Visit this famous casual spot for local plate lunches and sandwiches that typify Hawaii's fusion comfort foods.
Haleiwa Joe's at Haiku Gardens | 46-336 Haiku Road, Kaneohe, HI 96744 | The windward location of this popular Oahu restaurant and bar has excellent pupus and seafood entrees. Just arrive early to find parking and get a table.
Kikuya Restaurant | 46-148 Kahuhipa St C, Kaneohe, HI 96744 | A small, homey restaurant in Kaneohe, Kikuya offers delicious Japanese food.
Kogi Aina | 46-138 Kahuhipa Street, Kaneohe, HI 96744 | For Korean plate lunches and hot pot, visit Kogi Aina near the Windward Mall.
Waiahole Poi Factory | 48-140 Kamehameha Hwy, Kaneohe, Hawaii 96744 | Waiahole Poi Factory is the place to go to truly experience authentic Hawaiian dishes.
Zia's Caffe | 45-620 Kamehameha Hwy, Kaneohe, HI 96744 | For Italian entrees, pasta, pizza and breakfast on the weekends, Zia's is a family friendly restaurant.
What the top schools in Kaneohe?
There are over 30 public and private schools from preschool to higher education in Kaneohe. Click on the education level link to see how they are rated and where in Kaneohe they are located.
Healthcare Facilitie in Kaneohe
Visit the pages below to find primary care doctors and urgent care clinics in Kaneohe. If you are a military family, you may choose to use the clinic on MCBH.
Kaneohe Hotels
Unfortunately there aren't any hotels in Kaneohe but if you're in the service and live on or near MCBH Base, you do have options for lodging in Kaneohe. The region has historically been one of the hot spots for Oahu Vacation Rentals but with With recent legislation surrounding Oahu vacation rentals, make sure they are licensed and legal before booking.
Other options:
Popular churches in Kaneohe
What is the Real Estate like in Kaneohe?
If you are thinking about renting or buying on the windward side of Oahu near to conveniences and maybe MCBH, Kaneohe provides options from condominiums to single family homes. Prices may decrease as you move north up the windward coast away from the town and increase if the property is on the waterfront or closer to Kailua.
Compared to some parts of the mainland, Kaneohe home prices might seem high, but they are still more moderate than in neighboring Kailua. Also, homes on Oahu tend to appreciate, or grow in value, as space is limited on a busy island with a continually hot market.
Older condos or even some townhomes truly in Kaneohe are available starting around $400,000, but if you have the budget and want something larger or renovated, you can find that too. Single family homes can range from the $900,000s to the millions. Rental homes and apartments in Kaneohe range from about $1600 for a modest 1-bedroom all the way up to $6000/mo for an immaculate oceanfront property on Kaneohe Bay.
If Kaneohe's price range is overwhelming and you don't need a lot of room, don't despair. If you don't mind country living, small condominiums and other properties in Hauula up the coast are available at lower prices.
What are the best neighborhoods in Kaneohe?
Haiku Plantation: There are several Haiku neighborhoods of Kaneohe, full of vibrant green and with different types and sizes of homes. This area is convenient but quiet, with a suburban feel and community amenities. Haiku Plantation $2M to over $2.5M.


Kaneohe Bay: If you want oceanfront or ocean views, you'll want to focus your search on the Kaneohe Bay Homes for sale within the Mikiola and Mahinui neighborhoods Though you will not be on a sandy beach, it's still waterfront nonetheless and perfect for boating, kayaking, standup paddling and convenient to highways and MCBH. These exceptional properties are on the market for about $1.5M to over $5M.


Ahuimanu/Temple Valley: If you like a more rural feel and homes at the foot of the epic Koolau mountains, you might love thes houses for sale in Ahuimanu Hills and Temple Valley. Serene and a bit removed from town, though it does have a shopping center, you can find townhomes and condos built in the 1970s here. Temple Valley and Ahuimanu Homes for sale typically range from t $900K to $2M.
If you have further questions about the Kaneohe neighborhood or want to discuss your best options for the upcoming move, please don't hesitate to contact us!
What is Kaneohe known for?

Kaneohe is known for its lush landscapes, beautiful windward views, and the iconic Kaneohe Bay. The Bay is home to the only barrier reef in Hawaii and also houses the Sandbar, a popular spot for locals and tourists alike.
Is Kaneohe Hawaii a good place to live?
Yes, Kaneohe is considered a good place to live due to its natural beauty, laid-back lifestyle, and close proximity to Honolulu. It's known for its strong community spirit, ample outdoor activities, and family-friendly atmosphere.
Is Kaneohe safe?
Relative to other cities in Hawaii and the rest of the United States, Kaneohe has a lower crime rate. However, like any place, it's always important to stay vigilant and take basic safety precautions.
Is Kaneohe Bay safe to swim in?
Yes, Kaneohe Bay is generally safe to swim in, but as with any body of water, swimmers should be aware of currents, weather conditions, and marine life. Always heed local advisories and safety warnings.
Are there sharks in Kaneohe?
While sharks inhabit all Hawaiian waters, encounters with humans are relatively rare. Kaneohe Bay is no exception. While there may be sharks in the area, the risk of a shark encounter is very low.
Is Kaneohe Bay clean?
Yes, Kaneohe Bay is relatively clean. However, like any body of water, it can be affected by runoff and pollution, particularly after heavy rains. It's always a good idea to check with local authorities or lifeguards about current conditions.
What lives in Kaneohe Bay?
Kaneohe Bay is rich in biodiversity and is home to a variety of marine life including coral reefs, various fish species, green sea turtles, and occasionally, monk seals and dolphins.
Is Kaneohe sandbar safe?
Yes, the Kaneohe Sandbar is generally considered safe. However, the depth of the water and the size of the sandbar can change with the tides. It's also located in the middle of the bay, so getting there requires a boat or kayak.
Can you eat the fish in Kaneohe Bay?
Yes, the fish in Kaneohe Bay are edible, but like any seafood, they should be properly cleaned and cooked to ensure safety. Local fishing regulations should be adhered to, including size and catch limits.
Are there turtles in Kaneohe Bay?
Yes, green sea turtles are commonly seen in Kaneohe Bay. However, they are protected species and should not be touched or disturbed. It's also illegal to feed them.
Is Kayaking to Kaneohe sandbar safe?
Yes, kayaking to the Kaneohe Sandbar is generally considered safe. However, it's important to check weather conditions, tide levels, and wind speeds before setting out. Always wear a life jacket and bring safety equipment like a whistle and a phone in a waterproof case.
Can you snorkel in Kaneohe Bay?
Yes, you can snorkel in Kaneohe Bay. The bay is home to various species of fish and coral, making it a great spot for snorkeling. The Kaneohe Sandbar, in particular, is a popular snorkeling site.
How long is the boat ride to Kaneohe sandbar?
The boat ride to the Kaneohe Sandbar is typically about 10-20 minutes, depending on the starting point and the speed of the boat.
Are there jellyfish in Kaneohe?
Yes, jellyfish can be found in the waters around Kaneohe, including Kaneohe Bay. Box jellyfish, in particular, often appear around a week after a full moon. Local news and lifeguards can provide updates on jellyfish presence.
What is Kaneohe Bay known for?
Kaneohe Bay is known for its stunning natural beauty, including clear turquoise waters and views of the Koolau Mountains. It's also famous for the Kaneohe Sandbar, a strip of white sand that appears at low tide.
How do you get to the sand bar at Kaneohe Bay?
You can reach the Kaneohe Sandbar by boat or kayak. There are several companies in the area that rent equipment and offer tours. Please remember that the Sandbar is exposed at low tide and submerged at high tide, so plan accordingly.
Can you drive to Kaneohe Bay?
Yes, you can drive to various points around Kaneohe Bay. Popular spots like He'eia State Park and Kualoa Regional Park are accessible by car and offer parking.
Where does Kaneohe get its drinking water?
Kaneohe gets its drinking water from the Pearl Harbor aquifer and the Koolau dike complex, which are managed by the Honolulu Board of Water Supply. The water is treated and tested to ensure it meets or exceeds federal and state water quality standards.
What is the best side of Hawaii to live on?
The "best" side of Hawaii to live on depends on individual preferences. Each side of the island offers a unique lifestyle and environment. For instance, Kaneohe, on the windward (eastern) side, offers a laid-back, family-friendly atmosphere with stunning natural beauty.
What is the history of Kaneohe?
Kāne'ohe is an ahupua'a (traditional land division) on the eastern side of O'ahu, nestled at the base of
the Ko'olau mountains stretching out to the sea including the islands' only peninsula, Mōkapu. Kāne
translates to man and 'ohe is the Hawaiian word for bamboo. Although most think Kāne'ohe means
"bamboo man," it actually refers to a grove of bamboo that was special to the Hawaiian god named
Kāne, the god of light, life, and men. Therefore, the area's name refers to a bamboo grove, sacred to
Kāne that once grew in this area.

In 1795, Kamehameha I of the island of Hawai'i had made his way to the island of O'ahu to conquer its
king, his cousin Kalanikūpule. Five years prior the warrior chief had conquered and added Maui,
Moloka'i and Lāna'i to this growing kingdom. The two armies met in battle in lower Nu'uanu,
Kamehameha's army pushing Kalanikūpule's O'ahu army up into the valley. At the very back of Nu'uanu
is an opening that overlooks the Windward side.

This cliff, or pali is the lowest point in the Ko'olau
mountain range and looks out over all of Kāne'ohe. With nowhere to go, the O'ahu army had to stand
and fight or risk the steep fall down the Nu'uanu Pali leaving their fate up to the gods. This was a pivotal
point in Kamehameha's conquest, and he won the now infamous Battle of Nu'uanu. It wasn't until 1810
when he added Kaua'i and Ni'ihau to the kingdom, unifying all Hawai'i for the first time in recorded
history. Kamehameha so loved the bounty of Kāne'ohe that he took most of the ahupua'a for himself as
a spoil of war.

Beyond the Pali, extending out across Kāne'ohe into the bay is Mōkapu Peninsula. Strategically this
secure peninsula was the best place for chiefs to call their home. Kamehameha is said to have met with
his chiefs here as it is well defended from invading chiefs. The name translates to "sacred district," and
is covered in ancient burials and temples. Today the US Marines occupy this sacred Hawaiian space.
In the bay between Mōkapu and the main Kāne'ohe landmass are two natural features. The first is 'Ahu
a Laka, or the "alter of Laka." This natural sandbar used to be an actual island of sand that existed no
matter how high the tide rose.

However, with dredging and climate change, the sandbar's height
fluctuates, but it is no longer the massive mound it once was. Stories vary, but Laka was either an
ancient chief that is said to have been buried on the sand island or a reference to the god/goddess of
hula, Laka. To this day, many hula practitioners make a pilgrimage out to the sandbar to offer hula to
their deity.

The second natural feature is Moku o Lo'e, an islet that was about 12 acres, that later doubled in size by
its owner in the 1930s. Previously the island was passed from King Kamehameha I to his great-
granddaughter, Princess Bernice Pauahi Bishop. The princess is said to have planted dozens of coconut
trees in honor of the lifetime accomplishments of her cousin, the dowager Queen Emma. Because of
this, the island's nickname is Coconut Island today.

Kāne'ohe's location against the Ko'olau mountain range afforded the area with vast amounts water. In
Hawaiian, wai is the word for fresh water. Waiwai is the word for wealth; lots of water, lots of resources.
Kāne'ohe was indeed waiwai with ample kalo (taro) terraces and a bounty of fish from the bay.
In fact, one of the oldest fishponds on the island is in Kāne'ohe at He'eia. This 800-year-old, 80-acre
pond once fed the entire ahupua'a and was always on standby to feed a visiting ali'i (chief) plus his or
her sometimes enormous retinue. To learn about volunteer days, visit:
https://paepaeoheeia.org/volunteer/.
Kāne'ohe, cooled by the 'Āpuakea rains and Ulumano winds is a place of beauty and bounty. From the
majestic Ko'olau mountains reaching up to the heavens and the