6 Reasons You Will Love Living In Kuilima Estates On Oahu's North Shore
Posted by Koa Cassady on Wednesday, August 10, 2022 at 9:10 AM
By Koa Cassady / August 10, 2022
Comment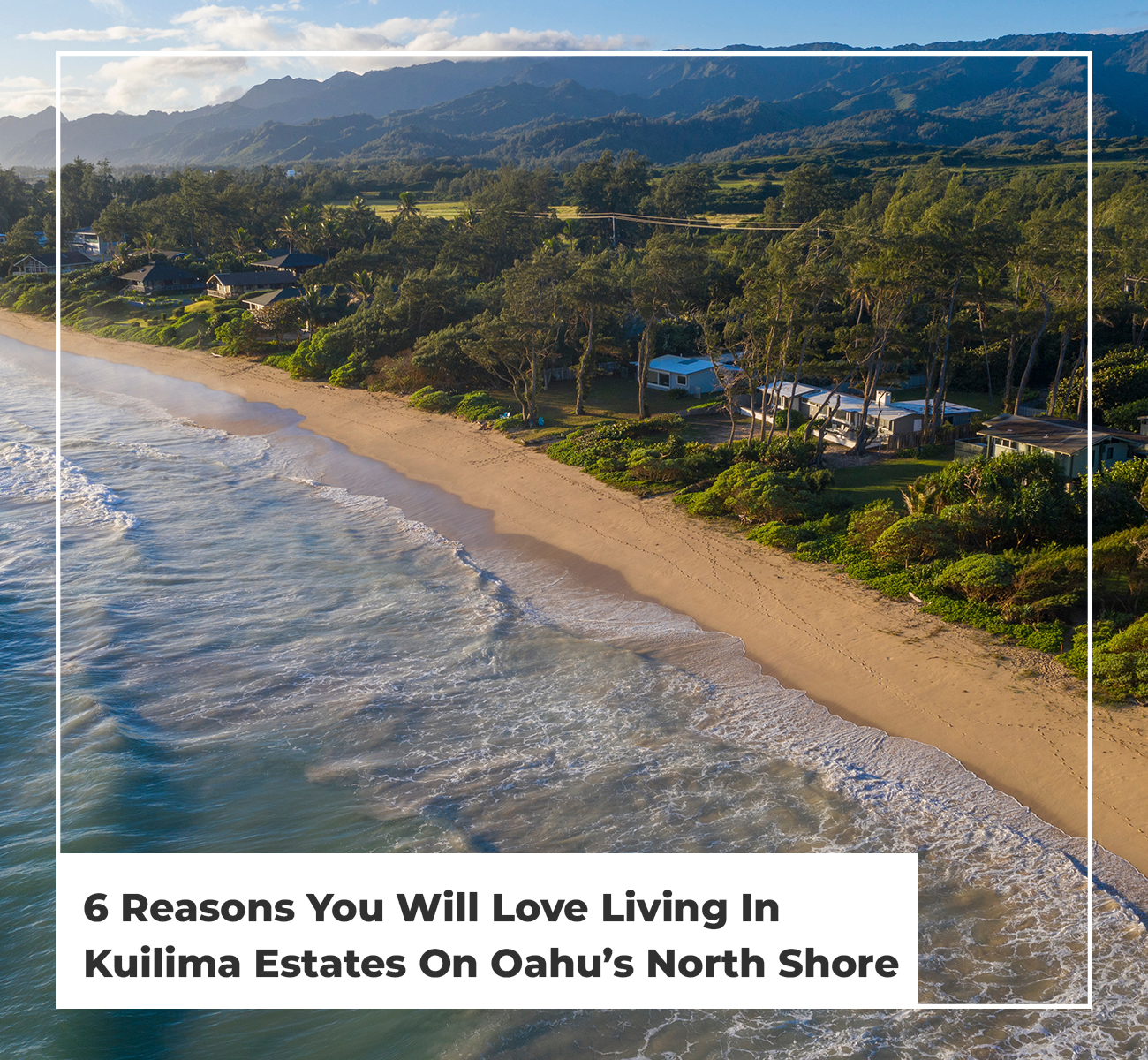 Oahu's North Shore is one of the most desirable places to live. Surfers come from all over the world to ride the big waves at Sunset Beach, Waimea Bay, and Banzai Pipeline. The North Shore is also a popular vacation destination with beaches, resorts, fine dining, shopping, hiking, golf, and entertainment. A condo at Kuilima Estates is a perfect home base to enjoy the areas.
Kuilima Estates is a destination area. Many residents buy homes here as investment properties or vacation homes. Two neighborhoods are separated by Kuilima Drive – Kuilima Estates East and Kuilima Estates West. The neighborhoods consist of condos for sale with pools and tennis courts. They are surrounded by lush landscapes with trees and golf courses.
1. Northernmost Part of Oahu
Kuilima Estates is located in the town of Kahuku. It's named for Kahuku Point and means "the projection, as this is the north tip of the island of Oahu. The town has a modest population of around 2600 people. People love to come to Oahu for fabulous surfing and the famous Turtle Bay Resort.
The area is about a 45-minute drive from Honolulu, where you'll find the closest airport and big city life. The Kamehameha Highway connects you to all the island has to offer. It is even possible to commute to anywhere on the island for work. Honolulu, Waikiki, and Diamond Head are on the southern part of the island.
Kuilima Estates is 11 miles from the town of Haleiwa in the Koolauloa District of Oahu. Haleiwa has fantastic restaurants, food trucks, shopping, and surfing. You'll find the famous Sunset Beach, where surfers from all over the world gather.
The area gets a decent amount of rain but is not as wet as the upper forested areas in the mountainous parts of the island. Temperatures are steady throughout the year – between 75 and 85 degrees, which is a bit cooler than the Honolulu side. This makes for a lush paradise.
2. An Active Community
Kuilima Estates East and West both have active homeowner's associations and a ton of amenities. As this is a condo community, you will get to know your neighbors and probably meet people vacationing from all over the world. Kuilima Estates East has 162 units, and some are used as rentals.
The Estates amenities include multiple swimming pools and tennis courts. The beach is just a few blocks away. Golf courses practically surround the neighborhood, and the weather is perfect for playing all year round.
People of all ages call Kahuku and Kuilima Estates home – the population is evenly divided amongst all age groups. Almost half of the people are families, and about 40% have school-age children.
3. Beautiful Homes
Condos for sale have one to three bedrooms and two to three bathrooms. They will sleep four to eight guests if you plan on making your condo an investment property. The average price is around $2 million, with some fetching much higher prices.
The community is access controlled and gated, adding to privacy and security. Many of the condo units are pet friendly. You will find condos nestled in the landscape but no high-rise units to muddle the views. The condos in Kuilima Estates West were built in the early 1970s, and an HOA manages the security, grounds, and amenities.
4. Schools
If you choose to live in Kuilima Estates year-round, your children will attend Sunset Beach or Kahuku Elementary Schools and Kahuku High & Intermediate School. The upper-grade school is known as the "Pride of the North Shore" and has engaging academic, athletic, and music programs. Kahuku High alums include Dr. Robert Anae, chef Sam Choy, Olympian Natasha Kai, surfer Makua Rothman, singer Jack Johnson, and a long list of professional football players. The Red Raiders football team is among the best in Hawaii, and many players are highly recruited by colleges and end up playing for the NFL.
5. Fine Dining
Alaia is a restaurant in the Turtle Bay Resort. It offers the island's best, sourcing ingredients from local farmers and the sea. They serve Hawaiian comfort foods. The menu offers gluten-free, vegan, and five-zero selections, which means five menu items create zero waste. Come for dinner for a daily breakfast buffet.
Lei Lei's Bar and Grill at Turtle Bay Resort offers breakfast lunch and dinner. The menu is American fare with pastas, steaks, ribs, and seafood dishes. Dine in the restaurant or take your food to go "picnic style".
Located at the historical site of an old sugar mill, Kahuku Grill specializes in shrimp and burgers. Try the "World Famous" Coconut Macadamia Nut Shrimp for a local twist.
Kahuku Farms is the place to enjoy fresh Hawaiian produce in the café or juice bar. It is a working farm that uses many of its own fresh-grown ingredients as the basis for the menu. Think locally grown acai. When you are done eating, check out the farm with a tour or a stop in their gift shop, where you can purchase products made right on site.
The Beach House by Roy Yamaguchi is also in Turtle Bay Resort. Roy's Take Out the window is available for a quick bite at the beach throughout the day. The restaurant is open for dinner hours and is described as casual yet upscale.
The locals and those headed to the beach are treated to a variety of food trucks and fruit stands serving locally grown fare. You'll find cuisine from around the world, including Thai and Brazilian. Be sure to check out one of the several food trucks serving shrimp. There are debates as to who serves it best. The fruit stands and local markets are a perfect place to pick up a quick bite, pack a picnic lunch, or stock up on the freshest dinner ingredients. For dessert or relief on hot summer days, pick up shaved ice in your favorite flavor.

6. Things to Do
The best thing about living in Kuilima Estates is the access to outdoor life. Living in Oahu and the North Shore means you are never far from the beach. We've already mentioned the great surfing spots that attract the best talent from all over the world. But the beach has so much more to offer. It's a great place to hike at any time of the day. Keep your eyes open for albatross, monk seal, Honu (green sea turtle), and rare birds. Collect shells and dip your feet in the soft sand.
The James Campbell National Wildlife Refuge was set aside in 1976 to protect the habitat of migratory seabirds. The space has been expanded since then and is now around 1100 acres. While you can't just walk in, there are guided tours each week where you can enjoy this pristine space.
If you are new to surfing and want to give it a try, many beaches between Kuilima Estates and Haleiwa offer surfing lessons. It's a great way to stretch your comfort zone and enjoy the water. Other popular water sports are kayaking and stand-up paddleboard (you can paddle or do yoga on your board) at Haleiwa Cove. Snorkeling is perfect at Kawela Bay and Kuilima Cove, where you can check out what lies beneath the surface and have a close encounter with the turtles.
Check out the Polynesian Cultural Center to get a sense of native island culture. Started by the Mormon church, the land is owned by Brigham Young University-Hawaii. There are eight villages where you can see native Polynesian arts and crafts and the Laie Hawaii Temple and visitors center.
Kualoa Ranch is a 4,000-acre nature reserve and cattle ranch. It's in the inland valleys of the island, but it still has beautiful ocean views. Many movies and T.V. shows have used the ranch for filming, including Jurassic Park, Jumanji, Lost, and Magnum P.I. They offer guided and horseback tours of the ranch.
Two 18-hole golf courses surround Kuilima Estates – the Fazio and Arnold Palmer courses. Skydiving and swimming with the sharks entice the adventurous. Whatever your heart desires are within a short distance.
Head inland to tour fruit and coffee plantations. Purchase produce directly from the farmers at local stands.

Living in Kuilima Estates
This neighborhood is perfect for those that want to enjoy Hawaiian life without property maintenance. The homeowner's association takes care of keeping the surrounding areas perfectly groomed. You can step out your door to play a round of golf, take a dip in the pool, or hop in your car for a quick drive to eateries, supplies, and fun in the sun.
Dwell Hawaii's team of knowledgeable industry experts represents the region's finest properties. Whether you're looking at buying or selling, contact Dwell Hawaii as Koa Cassady and his team ensure every client gets exactly what they are looking for.
View All Kuilima Estates Homes For Sale