6 Reasons To Love This Charming Windward Oahu Town
Posted by Koa Cassady on Wednesday, August 17, 2022 at 10:30 AM
By Koa Cassady / August 17, 2022
Comment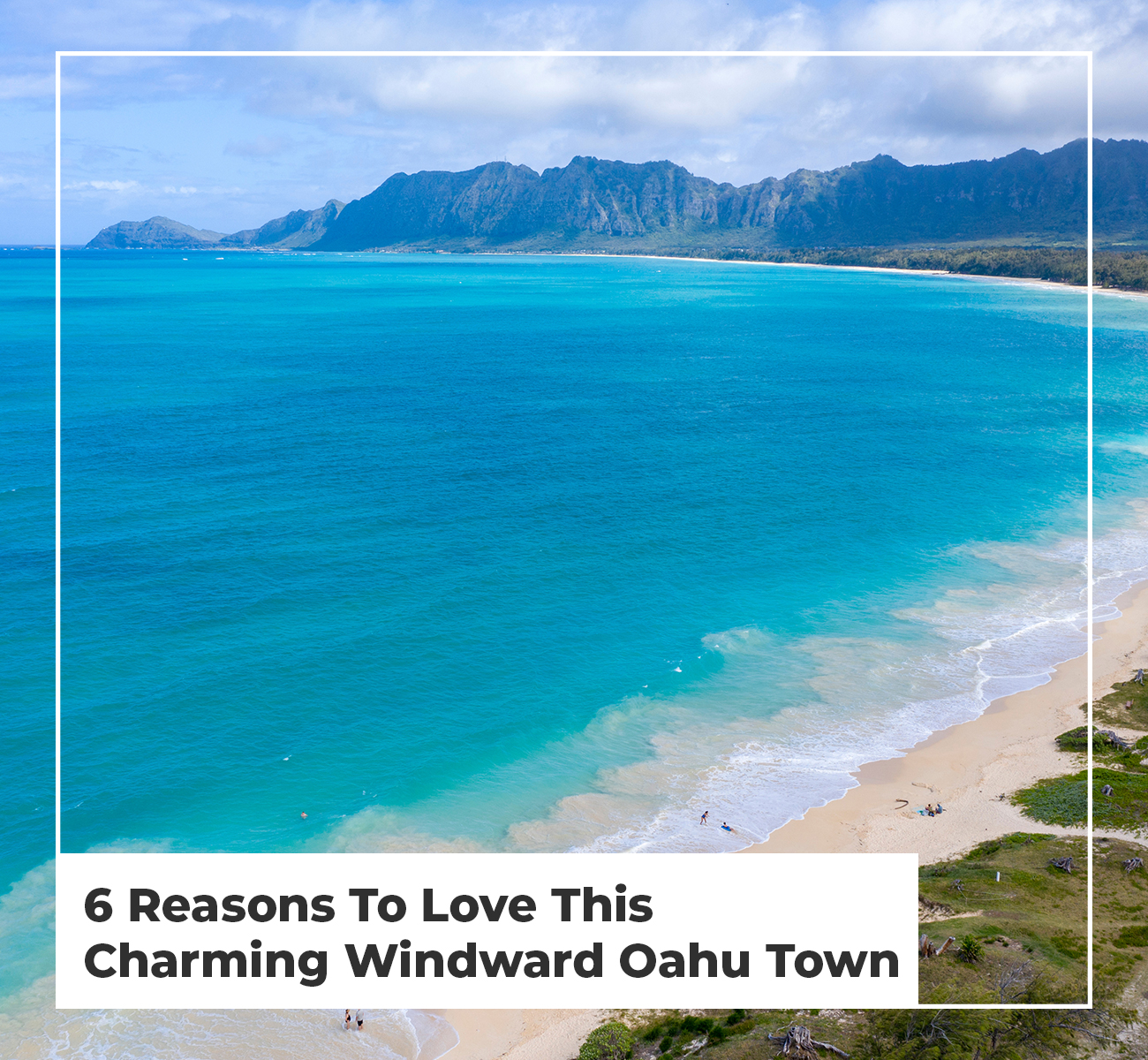 Suppose you are looking to move to Hawaii and want to be near the big city but have a longing to be immersed in an authentic Hawaiian atmosphere. In that case, the neighborhood of Waimanalo in Windward Oahu is the perfect place. Nestled between the Ko'olau Mountain Range on the west and Waimanalo Bay on the east, this narrow strip of land has the best that Oahu has to offer.
Waimanalo is located on the windward side of Oahu, in the island's southeast corner. Windward refers to the prevailing breezes. The east side of the island is often where the winds come ashore. It tends to be wetter than the leeward (west) side, resulting in lush landscapes and ideal living conditions. As a result, there are soft sandy beaches and green, dense forest reserves.
The name Waimanalo means "potable water," named after the many ponds in the area that have been used for irrigation. This natural feature gave rise to areas of farmland, which is a huge selling point of the area. Fresh fruits, vegetables, and seafood are abundant. Restaurants feature locally-sourced ingredients in their unique dishes. The farms offer tours and employs locals as well. Locals can purchase directly from the farmers.
Waimanalo is a part of the City and County of Honolulu. It has a population of just over 6,000 people, most of whom are native Hawaiians.
Here are six reasons to live in this desirable neighborhood:
1. Local Feel
Many shops are locally owned and operated. Instead of chain stores, there are mom-and-pop shops. One example is the local grocery store - Shima's Market, Poke Bar – where you'll find fresh seafood options and entrees for meals on the go.
Waimanalo is essentially a rural area with many farms. Among the crops grown are bananas, papayas, coffee, pineapple, and organic greens. This is also a perfect place to grow anthuriums – a beautiful native flowering plant.
Another odd thing that you might see exploring the town is the chickens. They are wild chickens running all over the island. The State of Hawaii protects these birds, so you can't just kill them if they get in the way (but you can eat their eggs). While they are amusing, they do cause a bit of a commotion. When purchasing a home, you might want to consider how to keep chickens OUT of your yard.
Waimanalo is the birthplace of Chad Rowan, a famous sumo wrestler. His sumo name is Akebono Yokozuna, and he was the first non-Japanese wrestler to attain the highest rank in sumo called Yokozuna. This was due to his size and stature. Locals erected a giant Akebono statue at the Waimanalo Shopping Center to honor him.
2. Beach Access
A big focus of the Waimanalo area is the beaches. While this is expected on an island, here the beaches are close-by and largely undiscovered by the tourists. Plus, no matter where you live in Waimanalo, you are within a quick walk to the beach. While there are many more beaches, here are a few of the most notable.
Waimanalo Beach is the longest stretch of shoreline on Oahu, at four miles long. It's a perfect place for a stroll beside the soothing waves.
Waimanalo Bay Beach Park has a sandy beach with white powdery sand that is perfect for a dip in the warm waters. The waves can get strong here, so be careful. On the other hand, this beach is spacious so you will not feel overcrowded.
Kaiona Beach Park is perfect for snorkeling with waters filled with corals. You can almost always get a glimpse of the Hawaiian green sea turtle, also known as the honu.
Venture out to nearby Rabbit Island by kayak to see shorebirds nesting on a volcanic crater. Also called Manana, Rabbit Island and nearby Kaohika'ipu (Black Rock) are part of the Hawaii State Seabird Sanctuary. You need permission to land on the shores but paddling around the waters is a popular pastime. Surfers also frequent the shallow reef on the north end of Rabbit Island.
Many homes are separated from the shoreline by Bellows Air Force Station, an Armed Forces Recreation Center with beachfront cabins, camping, paintball course, and Turtle Cove outdoor program adventure office. It's used by active duty, reserve, and retired military personnel. Bellows are also used as a military training ground.

3. A Great Place to call Home
Homes in Waimanalo are unique and have character. You won't find an HOA or typical suburban cookie-cutter homes. Oceanfront homes are the most impressive and on the higher end of the pricing scale, with values well into the millions of dollars. They are generally larger homes with lush landscaping and privacy fences.
Further inland and on the north side, homes are more modest. There are small bungalows and classic Hawaiian wooden plantation-style homes with fenced yards, and quaint porches. The views are still impressive, with the mountains on one side and a quick walk to the beach on the other. While the entire town is just 4 ½ square miles, there are places for every budget.
Families with children have great school choices administered by the Hawaii Department of Education. Kids attend Waimanalo Elementary and Intermediate School and Kailua High School, where they receive a well-rounded academic experience and many extracurricular activities such as a surfing team.
4. Places to Eat
Waimanalo and the island of Oahu have fantastic places to eat. There are cafes, delis, food trucks, and family-owned restaurants. Here are a few local favorites:
Ono Steaks and Shrimp Shack offer steaks, shrimp plates, kalua pork, fresh ahi and ono, chicken dishes, and more. Grab a local plate lunch or sit down for a simple entrée served with homemade papaya mango salsa.
Kalapawai Café & Deli has takeout and eat-in options. Your hunger pangs are satisfied from breakfast to dinner and anywhere in between. The deli has soups and salads, bento boxes, and poke bowls. Sit on the patio and enjoy views of the mountains and the fresh catch of the day, shrimp scampi, risotto, a burger, or mac and cheese.
Hawaiian Island Café is where you can get breakfast all day long, including an acai bowl or traditional morning fare with a Hawaiian twist. Later in the day, choose a pizza with macadamia nuts, pork with cabbage, or a Kalo burger.
Keneke's serves breakfast and lunch takeout orders such as a Mahi Mahi Plate, Pork Adobo, Portuguese Sausage, and Teriyaki Beef. Don't forget to top it off with shaved ice – a Hawaiian favorite.
Ono Seafood Hawaii is the place to pick up a poke bowl, Hawaiian-style ahi, or other unique Asian and Hawaiian dishes.
5. Attractions
From swimming with the dolphins to feeding sea turtles, Sea Life Park is a great way to see Hawaiian wildlife up close. Located on Makapu'u Point in Waimanalo, you can see over 2000 species of fish and sea life in a grand aquarium and enjoy sea lion shows in the Hawaiian Ocean Theater.
Olomana Golf Course is a challenging 18-hole, par 72 course with views of the Ko'olau Mountain Range and Olomana Peak. Surrounded by wooded forest, you often catch a glimpse of rare wildlife while trying for your hole-in-one. A beautiful clubhouse and beer garden are available for after-game refreshments and dinner.
Many farms around Waimanalo grow traditional products such as bananas, papayas, mangos, coffee, and greens. But for a twist, visit Small Kine Farm, where they grow Portabella mushrooms. Take a guided tour and discover how a recycling company reorganized into a mushroom farm.
The mountains around Waimanalo offer a fantastic variety of hiking trails. Hike to the peak of Pu'u'okona for majestic views of the ocean and cities. Other destinations include the Kuliouou Forest Reserve, Maunawili Falls, Kamehame Ridge, and Koko Crater. There are beginner as well as challenging hikes for all ages and abilities.
6. Location
Waimanalo is located on the southwest corner of the island. Hop on the Kalaniana'ole Highway for easy access to Kailua to the north. If you keep going east, you will round the Honolulu Watershed Forest Reserve and get to Honolulu.
Heading south out of Waimanalo is a beautiful drive along the ocean past Waikiki and Diamond Head into Honolulu. You'll find all the things a big city has to offer, including the Daniel K. Inouye International Airport, Hickam Air Force Base, restaurants, and nightlife.
You can go from one end of the island to the other in about an hour and a half. A leisurely drive up the coast, and you are at the North Shore, one of the hottest surfing spots in the world. Head inland to Oahu or south to Diamond Head.

Moving to Waimanalo
If you are looking for an out-of-the-way area with a strong sense of Hawaiian culture close to the large metropolitan area, Waimanalo is worth exploring. With its unique homes, beautiful beaches, stunning views, ideal climate, and friendly atmosphere, Waimanalo is like being on a permanent vacation.
Dwell Hawaii's team of knowledgeable industry experts represents the region's finest properties. Whether you're looking at buying or selling, contact Dwell Hawaii as Koa Cassady and his team ensure every client gets exactly what they are looking for.
View All Waimanalo Homes For Sale