Condos For Sale in Kapiolani Residence, Ala Moana HI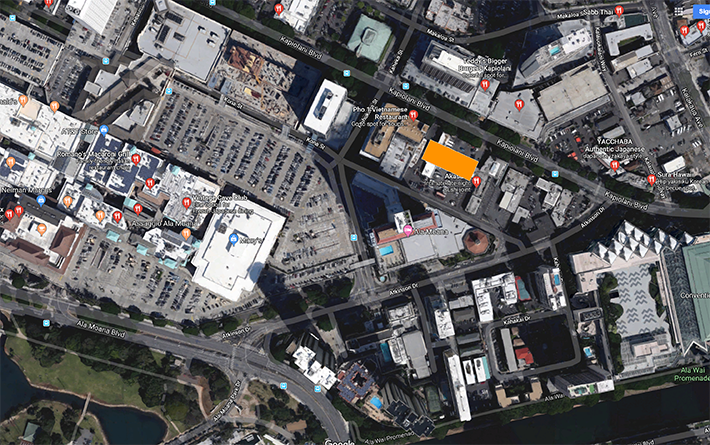 Completed at the end of 2018, Kapiolani Residence is the first of its kind in the area. It was developed by Korean developer Sam Koo, and the project offered 40% of the units to interested buyers who qualified for the affordable housing rules set out by the Hawaii Housing Finance & Development Corporation (HHFDC). The 45-story building has 494 units and is located in Midtown Ala Moana, which is a trendy and highly sought-after community that was in need of more affordable housing options. Home prices currently range from $689,000 to $1.1 million. The area is continuing to grow, as it's an incredible location, so more exciting things will keep popping up and becoming available to homeowners.
Jump To: Kapiolani Residence Listings | Kapiolani Residence Info | Contact Us | Create An Account
Kapiolani Residences
Kapiolani has a total of 494 condos in the building. There are 11 different floor plans available, ranging from A to K.
A suites are two-bedroom and two-bathrooms with 892 square feet of living space. There are 27 A units in the building. B suites are studio condos with 405 square feet, and there are 44 units in the building. C suites are one-bedroom, one-bathroom units with 696 square feet of living space, and there's a total of 27 units. D suites are one-bedroom, one-bathroom with 726 square feet of living space, and there are 27 units in the building. E suites are one-bedroom, one-bathroom suites with 671 square feet, and there are 27 units in total. F suites are three-bedroom, two-bathroom units with 1,230 square feet, and there are only four units in the building. G suites are two-bedroom, two-bathroom units with 889 square feet, and there are 20 units in total. H suites are studio condos with 400 square feet, and there are 44 units in the building. I units are one-bedroom, one-bathroom suites with 669 square feet, and there are 26 in the building. J suites are two-bedroom, two-bathroom units that have 922 square feet, and there are 20 units. Last but not least, K suites are two-bedroom, two-bathroom units that have 895 square feet of living space, and there are 26 units.
The Neighborhood
Conveniently located across from the endless world-class retailers that the Ala Moana Shopping Center offers, residents of Kapiolani are privy to some of the best amenities around. Across the street from the building, there is a 24-hour Fitness Super Sport gym, the Hawaiian Convention Center is just to the west, and the Ala Moana Beach Park is a short walk away. The world-famous Waikiki Beach is minutes down the street, and residents can walk to grab grocery options from a variety of different options. Visit Whole Foods, local markets, Target, Walmart, or Sam's Club, all within a few minutes from one another. Commuting to downtown Honolulu is a breeze since the building is located close to Ala Moana Blvd and Kapiolani Blvd for easy access to highways. There are some of the best restaurants on the island in this little community, like Seoul Garden, an excellent Korean Yakiniku restaurant, sushi, Italian, and so much more. Local coffee shops are everywhere, making life ultra-convenient.
Amenities
Built with a focus on affordability and fee reduction, the amenities deck isn't as fully-equipped as others in the area, but the building is ideal for those who don't want or need as many bells and whistles and want lower maintenance fees. The best amenity is the amazing location, but there are still several benefits for residents. The recreational deck has an indoor party room for residents to host parties and get-togethers. There are BBQ cabanas, which is another great spot for hosting and grilling up some food for friends and family, or just spending some solo time after a long week. Residents are steps away from shopping, dining, fitness centers, and the endless recreational activities that Hawaii offers. While there is no pool or sauna, the ocean is steps away, and the sandy beaches are the perfect place to relax and soak up the sun.
What's Nearby
Kapiolani residents have access to luxurious amenities without the luxury price tag. Stop for a coffee at Starbucks on your walk to pick up a few groceries from the largest Whole Foods Market in the state. Hit up a five-star restaurant for dinner and visit the local brewing company for a drink afterward. Take the family to the Ala Moana Regional Park for a picnic on a beautiful day. Go swimming or surfing at Ala Moana Beach Park, which is just a quick walk from the building. If you work in Downtown Honolulu, you can ride your bike to the office each day. Hop in the car and drive 15 minutes to the airport, or 15 minutes to Diamond Head for a hike that people from all over the world schedule into their vacations. Meet all the tourists at Waikiki beach and let them know of all the hidden gems that many tourists may not get to explore. Find the local events in the area, including concerts at the Neal S Blaisdell Concert Hall and the farmer's market held in the parking lot of the venue each week. There's so much to do in the community, and residents are close to everything they could need. Regardless of the lifestyle you're looking for, you can find it when you live at Kapiolani.
Schools
Since the building is focused on affordability, many families call it home. When choosing your dream home, finding an area with great schools is a must. Parents who have school-aged children can feel confident in Hawaii public schools in the community. Students will attend Queen Ka?ahumanu Elementary School, Washington Middle School, and President William McKinley High School. The schools are highly recommended by parents, and they have excellent reputations for high standards and academic excellence. Instilling a love for life-long learning is a goal of the dedicated staff who educate local students. Parents who prefer private or charter schools have plenty of great options around the city. Students moving on to post-secondary have the University of Hawaii within ten minutes from the building.
Kapiolani Residence Ala Moana HI Condos For Sale
October 4, 2023